Porcelain Veneers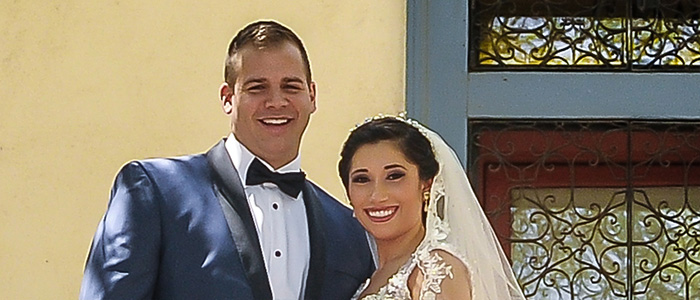 Porcelain veneers can beautifully rejuvenate the appearance of your smile, addressing common cosmetic concerns such as cracks, chips, stains, gaps, or even misaligned teeth. The color of your porcelain veneers can also be matched with the color of your existing teeth for the most natural-looking results possible. Depending on your needs, veneers may sometimes be used as a more conservative alternative to dental crowns. With porcelain veneers, our cosmetic dentists can significantly improve the form of your teeth for a beautiful, brilliant smile.
To learn more about this versatile cosmetic dentistry option, please explore the informational sections below or contact our office for a consultation:
What Are Porcelain Veneers?
Porcelain veneers are very thin shells of ceramic material that are placed over the front surface of a tooth to improve its apparent size, shape, length, shade, and alignment. The veneers are cemented firmly to the teeth to create a beautiful facade of durable, stain-resistant porcelain. With proper daily care and dental maintenance, porcelain veneers can last for 15 years or more.
Porcelain Veneers vs. Crowns
While porcelain veneers serve a primarily cosmetic function, dental crowns can restore strength, form, function, and esthetics to a badly damaged or decayed tooth. A crown is designed to fit over and around the entire body of a treated tooth, whereas a porcelain veneer only covers the front surface of a tooth. When compared to crowns, porcelain veneers are a more conservative option for improving the esthetics of teeth. In some cases where a porcelain veneer is not recommended, a dental crown may be the most suitable option for achieving your cosmetic goals. During a consultation at our practice, your cosmetic dentist can perform a comprehensive evaluation and determine whether porcelain veneers, dental crowns, or another treatment option is right for your needs.
What Are the Benefits of Porcelain Veneers?
Porcelain veneers are one of the most versatile cosmetic options we offer at our Los Algodones practice. In addition to correcting a wide range of esthetic concerns, this cosmetic dentistry technique offers several advantages when compared to other treatment options. For example, porcelain veneers:
Are made of stain-resistant ceramic material, so they remain white and bright
Are strong and durable
Require only conservative tooth preparation
Can be used to achieve a complete smile makeover
Closely resemble natural tooth material
Do not require additional care beyond regular dental hygiene
My experience with Dr. Iñiguez and everyone at the clinic was incredible! Not only were the veneers placed very well, but everyone went above and beyond to make sure I was happy and was having a good experience in Mexico. I can't thank everyone at the clinic enough! I would highly recommend them, they do amazing work and are perfectionists to make sure you're happy with the final results!

-Rebecca Z.
What Types of Porcelain Veneers Are Available?
We offer porcelain veneers made from high-quality materials that can provide durable, natural-looking results. The material that is recommended may depend upon the thickness of the veneer (no-prep, minimal-prep, or other), location of the tooth, your budget, cosmetic goals, and other important considerations. While the dental labs we work with can craft a range of veneer types using a variety of materials, we are particularly proud to offer the following state-of-the-art options:
Zirconia Veneers – Zirconia is an incredibly durable ceramic material that can be used to create custom veneers.
e.max® Veneers – Like zirconia, e.max® is also a strong ceramic material. E.max® can be used to create very thin, durable veneers that deliver excellent esthetics.
Feldspathic Veneers – Feldspathic porcelain is a material that offers many of the same visual characteristics you'd see in a beautiful, natural tooth. Our cosmetic dentists consider feldspathic porcelain to be the most esthetic option for custom veneers.
When veneers are crafted by experienced ceramists using these high-quality materials, the results can be incredibly lifelike and long-lasting. If you are interested in learning more about the other materials we offer, we are happy to discuss those with your during your consultation.
Who is a Candidate for Porcelain Veneers?
Those interested in porcelain veneers usually want to change the appearance of either a single tooth, multiple teeth, or all visible teeth. Porcelain veneers can often be used to correct the following cosmetic issues:
Gaps between teeth
Stains and discoloration
Short or worn teeth
Chipped, cracked, or broken teeth
Irregularly shaped teeth
Misaligned teeth
Uneven teeth
Patients who are candidates for porcelain veneers typically have good overall dental wellness and enough healthy tooth structure to support the restorations. Dental treatments can be performed to eliminate decay, gum disease, or other problematic conditions that might prohibit the placement of veneers. In cases where the teeth are too badly damaged or decayed for porcelain veneers, dental crowns may provide a more effective solution. Veneers can also be a viable option for patients with discolored teeth that do not respond as desired to professional whitening treatments.
What Happens During the Porcelain Veneers Procedure?
During the consultation process, our experienced cosmetic dentist will help you decide if porcelain veneers are the best approach for addressing your concerns and achieving your goals. Once you are determined to be a good candidate for the procedure, your cosmetic dentist will then remove a tiny layer of enamel from the front of the teeth, create custom molds that will be sent to a lab to prepare your veneers, and select a shade that can match your natural teeth. Temporary veneers will be placed to cover your newly prepped teeth while you wait for your final veneers. You must care for your interim veneers delicately, by eating soft foods and brushing gently, as they are made from a temporary material. After about seven to ten days, your veneers will arrive at our office. At this time, your cosmetic dentist will bond the porcelain veneers to the front of the teeth. The procedure is painless and is designed to preserve most of the original tooth structure.
Some patients may experience tooth sensitivity following their porcelain veneers procedure, though this sensation typically dissipates within two weeks. For patients who are prone to grinding or clenching their teeth, your cosmetic dentist may recommend a mouth guard to help protect the veneers.
We want to emphasize that the porcelain veneers procedure is not performed and completed in a day. In order to deliver optimal results, the process could take up to a week in some cases. Many of our patients choose to vacation in Los Algodones while they are undergoing treatment to make the most out of their time in the area.
How Do I Care for My Porcelain Veneers?
Proper dental hygiene to care for your new porcelain veneers consists of twice daily brushing and flossing. You will be trained on the proper technique for flossing your veneers once they are seated. Flossing veneers requires a slightly different and less abrasive approach than the method used to floss regular teeth. It is also critical to attend all follow-up exams and regular twice-yearly cleanings at our office to help your veneers last as long as possible. When you experience any kind of problem with your veneers, it is important to contact our office immediately to avoid the creation of a potentially larger, more costly problem down the road.
How Long Will My Porcelain Veneers Last?
Porcelain veneers are durable, stain-resistant, and can give you a beautiful, long-lasting smile; however, the length of time your porcelain veneers last depends largely on how you care for them. High-quality veneers that are well taken care of can last for 15 years or more! At our practice we offer a two-year warranty on all restorations that are properly maintained according to our requirements. You must practice proper hygiene, attend all scheduled follow-up appointments, and have your professional cleanings done in our office for this warranty to apply.
How Much Do Porcelain Veneers Cost?
At our practice, the average cost of a single-tooth porcelain veneer treatment at our practice is between $500 and $550, which is a large savings when you consider that the cost of this very same treatment in the United States may be between $1000 and $2000 per tooth.
For each patient, the specific cost of porcelain veneers will depend on the unique details of his or her customized treatment plan which are determined during the consultation. After you have decided on a treatment plan with your dentist, Netty our treatment plan coordinator will discuss pricing and break down the full cost of your treatment. Your quote will include the number of veneers you are receiving, what material they will be made of, and any necessary dental treatment(s) and/or preparation required prior to the placement of your veneers. Compared to cosmetic dentists of the same caliber in the United States, you will likely find that our porcelain veneers prices are much more affordable.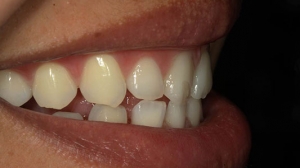 Before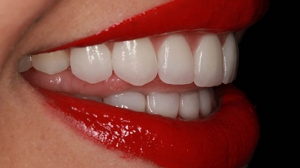 After
Why Choose Us for Porcelain Veneers?
Our dedication to providing high-quality veneers made of the most advanced materials sets us apart from other dentists in the area. It is important to us that your veneers are strong, long-lasting, and natural-looking. Our expert ceramist, Jorge, creates our custom veneers using the finest materials available—including zirconia, feldspathic porcelain, and e.max®—to deliver optimal esthetics and durability. They are both highly trained in the latest techniques and each have 20+ years of experience crafting all types of beautiful restorations. The state-of-the-art dental care and restorations we provide are only equaled by top cosmetic dentists in the United States who charge significantly more for their services.
Contact Us
For more information about porcelain veneers, or to schedule a consultation with Dr. Iñiguez or Dr. Laiza, please contact our office today.