Dental Crowns
What is a Dental Crown?
A dental crown is a custom restoration that is placed over a damaged tooth to enhance its strength and protect it from further harm, while restoring proper function and a healthy bite. In addition, crowns can be used for esthetic purposes, typically to cosmetically enhance the appearance of a misshapen or severely decayed tooth. When a tooth is missing or needs to be replaced, a single implant prosthesis (often called an implant crown) may be secured to the tip of a dental implant.
The dental crowns from our practice are carefully crafted to achieve natural-looking, long-lasting results. We understand the importance of a healthy, beautiful smile and strive to provide our patients with outstanding service and exquisite outcomes. Following a comprehensive dental exam, one of our experienced dentists can determine whether a dental crown is necessary, approximate the degree of tooth preparation required, and suggest the best restoration material for your needs and priorities.
Contact our practice to schedule a consultation to discuss your dental concerns and determine the right course of treatment for repairing your smile. You may also review the informative sections on dental crowns we have provided below for more information.
What Are the Different Types of Dental Crowns?
At our dental practice, we offer dental crowns made of a variety of materials:
All-Ceramic Crowns: Typically used for the front teeth, these crowns can most closely match the color of your natural teeth. Today's advanced ceramic materials are very durable and natural-looking.
Zirconia Crowns: Our certified zirconia crowns are typically used for posterior teeth such as molars or patients that are bruxist (have a hard bite).
Emax Crown: We prefer to use on anterior teeth and bicuspids (only when veneers aren't an option) because of their esthetic appearance.
During the consultation process, your dentist can help you decide which materials your dental crown(s) will be best for your unique needs, goals, and budget. Our highest quality options are e.max® and zirconia, and you will discover that our prices on these premium crowns are significantly lower than you would find at an equivalent cosmetic dentistry practice in the United States.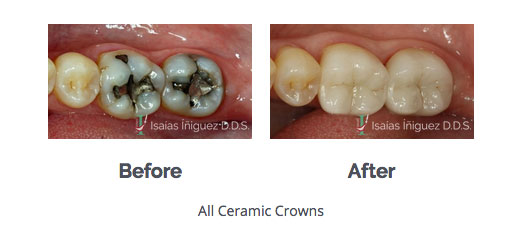 What Happens During the Dental Crown Procedure?
Before your procedure begins, the area in which your affected tooth is located will be numbed with an appropriate local anesthetic. When the tooth is desensitized, your dentist can set to work removing damaged areas of the tooth and preparing its shape to receive a crown. Once the tooth has been prepared, an impression is made of the tooth. This impression is used to design and fabricate your crown for an optimal fit. While you wait for your crown to be crafted by highly-qualified ceramists in a trusted dental lab, you will wear a temporary crown on your prepared tooth to protect it. During this time, it is important to be gentle with this temporary crown, as it is made of weaker materials than your final crown and can potentially become damaged or dislodged. When your permanent crown is ready—within about a week or possibly less—you will come back to our practice to have it fitted and cemented in place. Before the crown is bonded, your dentist will check to see that the right color, shape, fit, and bite have been achieved. Finally, the crown is seated for a long-lasting bond.
See outstanding examples of Dr. Isaías Iniguez and Dr. Laiza Íñiguez Smith's restorative work featured in Inside Dentistry and Dentaltown
How Long Do Dental Crowns Last?
When dental crowns made of strong, durable materials are properly cared for, they can potentially last for 15 years or more! Proper care generally includes a twice daily dental hygiene routine and receiving professional cleanings at least two times per year. If you attend your scheduled follow-up appointments, have your exams and cleanings performed at our practice, and show signs of good dental hygiene, our practice will provide you with a two-year warranty on your dental crown. It is important that you meet the requirements exactly to qualify for the warranty. We stand by the quality of our work and pride ourselves on delivering superior results at a fraction of what you would pay (for the same level of care) in the United States.
How Much Does a Dental Crown Cost?
At our practice, zirconia crowns cost between $550 and $600 (U.S. Price = $1500); full porcelain/e.max crowns cost between $500 and $550; and porcelain fused to metal crowns (which we do by request only) cost $450 (U.S. Price = $800).
While our prices are higher than other dentists in Los Algodones, we believe that the comprehensive diagnostics, custom treatment planning, and high-quality restorations we offer provide patients with a significant value. Our experienced cosmetic dentists are highly trained and provide services that are on par with what you would find at a top cosmetic dentistry practice in the United States. We invite you to review our dental cost chart to get a better understanding of how reasonable our prices are! If you are comparing our prices with other Los Algodones practices, remember that you often get what you pay for with dentistry, and choosing a dentist based solely on the lowest price will generally leave you with unsatisfying and unreliable results that likely need to be fixed.
We encourage you to choose a quality dentist in Mexico so you receive the excellent dental care you deserve. Many of our patients combine their dental treatment at our practice with a week or more of site-seeing and vacation in the surrounding areas. If you want to schedule your appointment at our practice, please contact us to discuss your needs and dental goals.