Home/Proactive & Preventive Care
Proactive & Preventive Care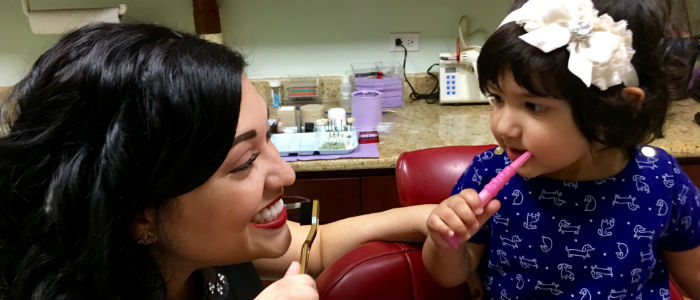 Dr. Isaías Iñiguez believes that healthy teeth and gums are the first step toward achieving – and protecting – the smile of your dreams. Dr. Íñiguez and his experienced dental team offer a comprehensive range of restorative and cosmetic dentistry procedures to rejuvenate the appearance and the function of your teeth; however, routine oral hygiene appointments can facilitate early detection of dental issues, allow prompt and effective treatment, and serve as a vital component to the prevention of decay or disease. Dr. Íñiguez is trained in the latest techniques and dental technology to provide you with the high-quality care you expect while also making your experience at our office as comfortable and convenient as possible. By proactively taking care of your teeth and gums with regular oral exams, dental cleanings, and oral cancer screenings, you can help ensure that your smile remains healthy and beautiful.
To schedule a consultation with one of our skilled cosmetic dentists, or to learn how our preventive care options can help you achieve and maintain healthy teeth and gums, please contact our office today.
Oral Exams
Dental treatments are typically most effective when the problem is detected early on. By scheduling routine oral exams with Dr. Íñiguez and his team twice yearly, you can receive prompt diagnoses of any oral health issues you may be experiencing and get the treatment you need in a timely manner. During your oral exam, your teeth and gums will be thoroughly inspected for any signs of concern. If a dental problem is detected, Dr. Íñiguez, Dr.Javier or Dr. Laiza can design a treatment plan to address your needs and preserve your oral health. Regular oral exams can also prevent more serious – and costly – dental problems from developing in the future.
Dental Cleanings
Dental cleanings performed by our experienced staff can provide a deeper, more thorough cleaning than daily brushing, flossing, and rinsing are able to accomplish on their own. Plaque and tartar can form on the teeth and along the gumline over time, and professional dental cleanings can address this build up. For this reason, twice yearly dental cleanings can not only keep your mouth healthy but also prevent more severe conditions caused by untreated plaque or tartar. Many of our patients choose to schedule their oral exams and dental cleanings simultaneously to help maintain a bright and youthful smile.
Oral Cancer Screenings
For many patients, oral cancer does not exhibit any symptoms in its earliest stages. Oral cancer screenings are your first line of defense against this potentially life-threatening disease. When oral cancer is detected early on, the disease is much easier to treat. Therefore, Dr. Íñiguez offers oral cancer screenings to catch this disease and develop a treatment plan before the condition worsens. Oral cancer screenings examine the inside of your mouth for any irregularities that may signal precancerous or cancerous growths. To schedule an oral exam at our office, please contact us today.
Family Dental Care
Our general, cosmetic, and restorative dental treatments are designed to brighten, protect, and rejuvenate your smile as well as the smiles of your whole family. During your dental consultations, Dr. Íñiguez and his team spend time reviewing all of your treatment options to enable you to make well-informed decisions about your dental care. This commitment to education also extends to your children. When your child visits our office, we strive to create a relaxed and friendly atmosphere to put them at ease. Our dental team can then teach your child about their teeth and gums – and the best ways to take care of them at home. By instilling good oral hygiene habits at an early age, your family can enjoy generations of happy and healthy smiles.
Mercury-Free Dentistry
Although mercury was commonly used in dental treatments such as tooth fillings many years ago, mercury has been linked to numerous health risks in recent years. Since the safety of you and your family is our top priority, we do not use any materials containing mercury at our practice. Innovations in dental materials have led to restorative dentistry techniques that are more effective, mercury-free, and can produce incredibly natural-looking results. As an added benefit, mercury-free dentistry can significantly reduce our impact on the environment by minimizing hazardous byproducts. If you currently have one or more mercury fillings and would like to learn how Dr. Íñiguez can upgrade these materials and improve the appearance of your teeth, please contact our office today.
Periodontal Care (Gum Disease Treatment)
Twice-yearly oral exams can help prevent the advanced stages of periodontal disease by allowing Dr. Íñiguez and his team to promptly treat the condition as soon as it manifests. If an oral exam reveals that you are suffering from periodontal disease, Dr. Íñiguez will review your treatment options and help you select the method that can best meet your needs.
Cost of Proactive & Preventive Dentistry
Depending upon your unique needs and goals, the cost of diagnostic and preventative treatments performed at our practice can vary. An initial consultation, which includes a comprehensive oral exam, typically costs $100. When digital x-rays or photographs are necessary, these services may add another $100 to the total cost of the visit. Finally, for patients who need general prophylactic dental care or additional deep cleaning treatments, these services can be performed for between $60 and $100.
If you have specific questions about pricing, we encourage you to contact our office to speak with a knowledgeable member of our team.