Cosmetic Dentist Says It Is Still Safe to Visit Mexico for Dental Work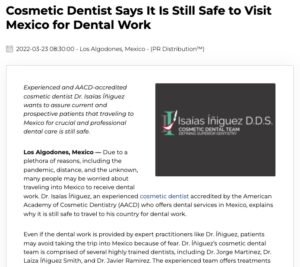 Experienced and AACD-accredited cosmetic dentist Dr. Isaías Íñiguez wants to assure current and prospective patients that traveling to Mexico for crucial and professional dental care is still safe.
Los Algodones, Mexico — Due to a plethora of reasons, including the pandemic, distance, and the unknown, many people may be worried about traveling into Mexico to receive dental work. Dr. Isaías Íñiguez, an experienced cosmetic dentist accredited by the American Academy of Cosmetic Dentistry (AACD) who offers dental services in Mexico, explains why it is still safe to travel to his country for dental work.
Even if the dental work is provided by expert practitioners like Dr. Íñiguez, patients may avoid taking the trip into Mexico because of fear. Dr. Íñiguez's cosmetic dental team is comprised of several highly trained dentists, including Dr. Jorge Martinez, Dr. Laiza Íñiguez Smith, and Dr. Javier Ramirez. The experienced team offers treatments such as porcelain veneers, dental implants, dental crowns, and many more. Dr. Íñiguez and his team want to reassure patients that the practice, as well as traveling to Mexico, is just as safe as it was before the COVID-19 pandemic.
For those who may question the safety of traveling to Dr. Íñiguez's practice, he and his team explain they have taken the necessary steps to maintain the ultimate safety of their patients. At the practice, patients are able to socially distance with access to two indoor waiting rooms and one outdoor waiting room.
"The entire staff is fully vaccinated and wears Personal Protective Equipment […]. It is safe to travel to Mexico," Dr. Íñiguez says about the current protocols his staff is using. "We ask that everyone that comes into the office, please wear their mask and social distance from other patients."
At the U.S.–Mexico border in Andrade, CA, Dr. Íñiguez adds that service hours have returned to normal, with traffic being allowed through from 6 a.m. to 10 p.m. PST. Vaccination cards and temperature readings are currently not required upon returning to the U.S., nor for patients entering into Mexico. If patients are worried about driving after receiving dental work or are interested in planning a dental vacation, the practice recommends specific AirBnB services in Yuma, Arizona, for overnight stays.
Dr. Íñiguez assures his patients that the practice is easy to locate. He notes it is not far from the U.S. border and they are continuing to operate under COVID-19 safety protocols while still offering all of the dental services in their thorough and deep catalog. For those who want to know more about the safety of traveling to Mexico for dental treatment, Dr. Íñiguez recommends contacting Dr. Laiza at the practice for more information.
About Isaías Íñiguez, DDS Cosmetic Dental Team
Dr. Isaías Íñiguez is an AACD-accredited dentist in Mexico and founder of the Isaías Íñiguez, DDS Cosmetic Dental Team in Los Algodones, Mexico. Dr. Íñiguez and his team have immense experience in dentistry and are highly trained professionals. In addition to Dr. Íñiguez, the team consists of other world-class dentists such as Dr. Jorge Martinez, Dr. Laiza Íñiguez Smith, and Dr. Javier Ramirez. The practice offers a variety of dental treatments and provides sedation dentistry for those with a fear of the dentist.
For more information about Dr. Isaías Íñiguez and his practice, please visit driniguez.com and facebook.com/Dr.Iniguez. Dr. Laiza is available for a virtual consultation upon request.
Contact:
Isaías Íñiguez, DDS Cosmetic Dental Team
Calle 2da & Avenida "B"
Los Algodones, B.C., México 21970
(800) 782-2115
(928) 941-1595
Rosemont Media
(800) 491-8623
www.rosemontmedia.com
Do I Have Sleep Apnea?
»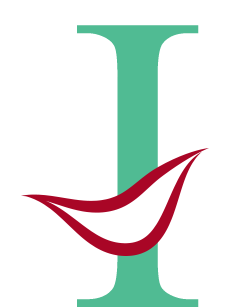 Isaías Íñiguez D.D.S.
COSMETIC DENTAL TEAM
Defining Superior Dentistry