Americans Receive Affordable Dental Care in Mexico from AACD-Accredited Dentist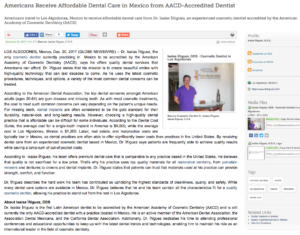 Americans travel to Los Algodones, Mexico to receive affordable dental care from Dr. Isaías Íñiguez, an experienced cosmetic dentist accredited by the American Academy of Cosmetic Dentistry (AACD).
Los Algodones, Mexico – Dr. Isaías Íñiguez, the only cosmetic dentist currently practicing in Mexico to be accredited by the American Academy of Cosmetic Dentistry (AACD), says he offers quality dental services that Americans can afford. Dr. Íñiguez states that his mission is to create beautiful smiles with high-quality technology that can last decades to come. As he uses the latest cosmetic procedures, techniques, and options, a variety of the most common dental concerns can be treated.
According to the American Dental Association, the top dental concerns amongst American adults (ages 20-64) are gum disease and missing teeth. As with most cosmetic treatments, the cost to treat such common concerns can vary depending on the patient's unique needs. For missing teeth, dental implants are often considered to be the gold standard for their durability, natural-look, and long-lasting results. However, choosing a high-quality dental practice that is affordable can be difficult for some individuals. According to the Dental Cost Guide, the average cost for a single-tooth implant in America is $4,000, while the average cost in Los Algodones, Mexico is $1,200. Labor, real estate, and malpractice costs are typically low in Mexico, so dental practices are often able to offer significantly lower costs than practices in the United States. By receiving dental care from an experienced cosmetic dentist based in Mexico, Dr. Íñiguez says patients are frequently able to achieve quality results while saving a lump-sum of out-of-pocket costs.
According to Isaías Íñiguez, his team offers premium dental care that is comparable to any practice based in the United States. He believes that quality is not sacrificed for a low price. That's why his practice uses top quality materials for all restorative dentistry, from porcelain veneers and dentures to crowns and dental implants. Dr. Íñiguez states that patients can trust that materials used at his practice can provide strength, comfort, and function.
Dr. Íñiguez describes the hard work his team has contributed as upholding the highest standards of cleanliness, quality, and safety. While many dental care options are available in Mexico, Dr. Íñiguez believes that he and his team contain all the characteristics fit for a quality cosmetic dentist, allowing his practice to stand out from the rest in Los Algodones.
About Isaías Íñiguez, DDS
Dr. Isaías Íñiguez is the first Latin American dentist to be accredited by the American Academy of Cosmetic Dentistry (AACD) and is still currently the only AACD-accredited dentist with a practice located in Mexico. He is an active member of the American Dental Association, the Association Dental Mexicana, and the California Dental Association. Additionally, Dr. Íñiguez dedicates his time to attending professional conferences and educational opportunities to keep up with the latest dental trends and technologies, enabling him to maintain his role as an international leader in the field of cosmetic dentistry.
For more information about Dr. Isaías Íñiguez and his practice, please visit driniguez.com and facebook.com/Dr.Iniguez. Dr. Íñiguez is available for interview upon request.
Contact:
Isaías Íñiguez, DDS
Calle 2da & Avenida "B"
Los Algodones B.C. México 21970
1(800) 783-2115
(928) 941-1595
Rosemont Media
(858) 200-0044
www.rosemontmedia.com
Are Porcelain Veneers Right For Me?
»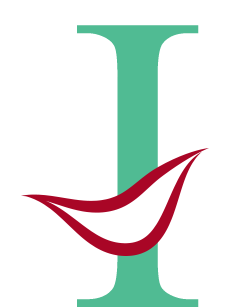 Isaías Íñiguez D.D.S.
COSMETIC DENTAL TEAM
Defining Superior Dentistry